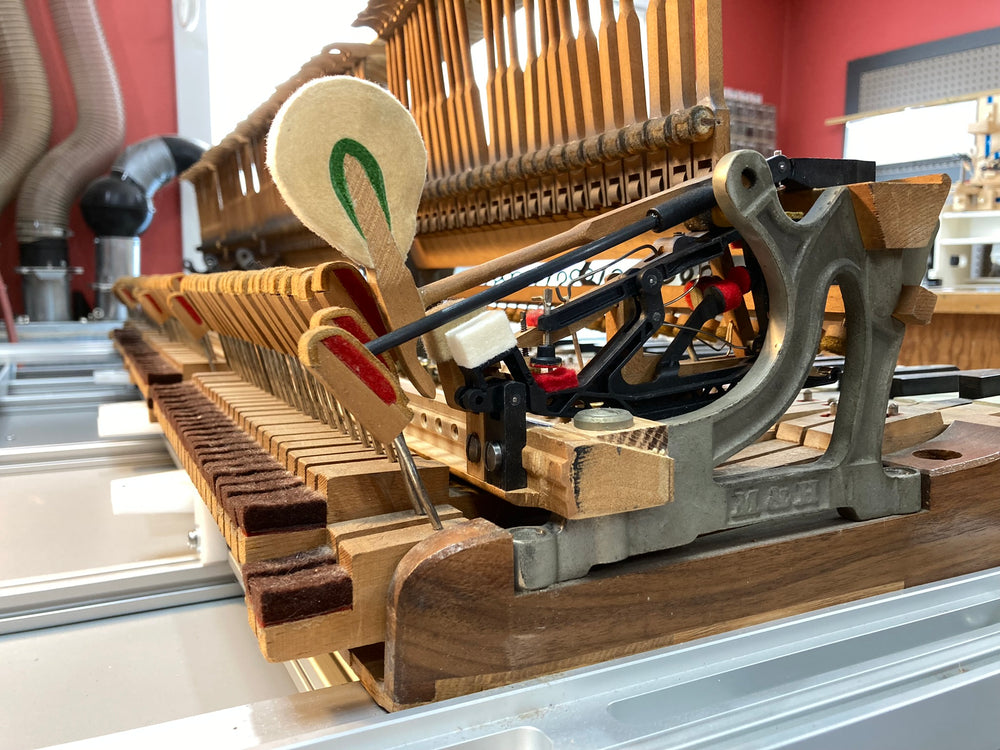 KS 27: Gauging the Plan - Part 1
The ideal is to have this 1930 Mason & Hamlin A play as if it were new. With this in mind, which parts and materials can be kept? Which are too compromised? Is there the budget and a route for achieving such an ideal? Cheapest kind may be appropriate for getting a few more seasons out of the 93-year-old, but it won't regulate or voice or play to its potential that way. If cheapest kind is what can be afforded, the plan must be gauged to accomplish the most important needs. If money is no object, then a full rebuild would be in order and present its own challenges. But for this piano, a middle road was available, replacing hammers, shanks, wippens, and backchecks. Other decisions should support these investments.
New WNG parts were selected and match or surpass the original parts in quality, but they do require some accommodation. First, the composite wippen body bellies downward for structural strength and this shape conflicts with the rectangular shape of the wippen rail. Enough material must be removed for these wippens to clear once regulated.
I cut a triangular strip off the front upper side of the rail at my table saw. Shims at rail's front, there for fine-tuning spread, had been glued in place and were of custom thicknesses. Leaving them on will be a help but made for a slightly bumpy ride on the saw bed. The main screws to secure the rail lost their bearing surface with this cut, requiring some triangular blocking to compensate (see lead photo). I glued these on, placed them upside down on scrap wood, and drilled the existing slot holes through the new material.
A nice detail of these old WNG action brackets improved rail stability and prevented spread creep by adding horizontally secured wood screws through little flanges in the brackets. These flanges needed notching for the section-end wippens to clear. I hacksawed horizontal cuts and Dremel Tooled vertical.
The wippens now assembled easily but required careful attention to right order both for spring tension (red striped in bass, white in middle, blue treble) and for integrating the 2mm taller sharp heels (there to mitigate sharp-to-natural geometry conflicts). One other topstack modification will wait for hammer hanging and some regulating: new wippen cloth will be cut to size and glued onto the felt cushions to make up for a height deficit (see lead photo).
I used a bead blaster to clean the keys but steel wool, brush, and vacuum served for the keyframe. To avoid drips of Flitz spoiling the general patina, I ripped off a strip of cheap paper (newspaper being no longer at hand), pushed it over the pins, and polished.
Then, I installed new Crescendo balance and front punchings from Erwin's Forte Piano Supply (bought recently from Jurgen Goering) and backrail cloth from my stock, ripping the old cloth off with difficulty and using Dampp-chaser additive to soften and remove the rest. I left in place the original contour felt and PVCE-glued the cloth on, clamping with shop scraps cut to size.
A protractor helped to get the cloth section-end cuts right and I glued first inside, then outside. The original cloth was narrower but mine worked fine, offering no harm, just more gluing surface. And the thickness was identical (lucky), simplifying elevation constraints.
Both front and balance bushings were severely nested, with oval pins turned to take up slack at the front. I straightened the pins and treated both sets of bushings with (yes) Dampp-chaser additive, leaving them with cauls in to dry overnight. Both sets of pins measured .147" so I chose .147" cauls for balancerail and .152" for front. Drying slightly looser (balance by about .001" and front by .004"), they came out perfect - possibly better than if I had removed old and installed new.
A slight surface noise in the front bushings disappeared with a modest Exacto-blade brushing. Meanwhile, I had installed a new set of WNG anodized aluminum capstans, lowering capstan weight by nearly 5 grams and gaining permanently polished surfaces. The old capstans screwed out and the new in with an electric-drill-driven tool from WNG (I used to make such out of better-quality coat hanger). And I used a Rocke Sharp Leveling Block as thickness gauge to rough in heights while not under wippens, tallest step for naturals, middle step for sharps. 
Each of these steps will help results live up to the expectations set by the new parts. They are easy, don't cost much, and improve my enjoyment of the process. In another couple of steps, the keys and keyframe will be functionally new!
Next time: Gauging the Plan - Part 2