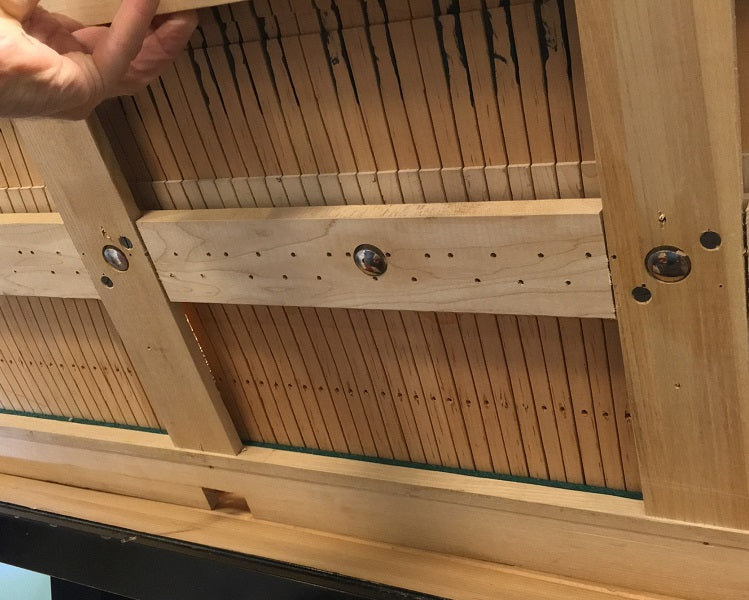 KS 6: Hidden Glidebolts
Not all glidebolts show. Unless you are familiar with the make and model of a grand piano, it might be worth the extra effort to pull the action enough to have a look at its underside.
Keys must clear a protruding bolt or provide space for screwdriver access to a slotted bolt. In some well-known keyframes, one of the glidebolts will be offset toward the back to facilitate the placement of that clearance. But there are keyframes, like the one shown above, that simply offer no access except by key removal. Not only is this annoying for the extra steps involved, but there is the distinct possibility that such bolts will go unnoticed, messing with the good efforts of a technician trying to regulate.
Why have extra glidebolts, seen or unseen? Two reasons occur to me. First, long stretches of balancerail unsupported may slightly bend with playing. The back and front rails generally have support along their entire lengths, yet the highly-levered balancerail has only these adjustable points for stability, similar to sonotubes supporting the structure of a raised building. A calculation has been made determining frequency and placement. A glidebolt fit is easier to achieve and more adjustable than a full-length fit, but it must not allow balancerail rocking, bouncing, or distortion.
It is common, at least in stiffer model keyframes, for 26-note bass sections to have no mid-section support. The designer must assume that the greater hammer weight and greater number of compensatory key weights combine to damp unwanted extra motion. Baldwin determined this treble section to be wide enough to need an extra glidebolt but chose not to take material away from the keys over it. And taking material away from keys for an extra glidebolt in the bass would be even worse, which may be why it's not usually done.
In more flexible keyframes, popular in Asia for their regulator-friendly ability to follow the keybed, hidden glidebolts provide needed extra stability. They may be hidden partly not to weaken the keys above the bolts, but some of them do not even go through the balancerail, permitting no access from above, period. These are only adjusted with a special wrench from below. 
In a stiff, Steinway or Mason type keyframe, when the glidebolts are all sufficiently backed out, the entire rail, keys and all, will be off the keybed. In flexible keyframes, the rail can keep sinking until the bolts are turned up all the way. For elevations in the action to be correct, one or more glidebolts must first rough in that best height. This offers a compelling reason for having the factory-adjusted bolts hidden and for them to be additionally hard to adjust.
I advise leaving them where they are, unless there is a need to remediate previous meddling by a well-meaning-but-not-fully-understanding technician (could have been me!). Include them, however, in all testing and sampling to prevent them causing noise or an imbalance.
For a piano like the Baldwin in my example, remove the one or several keys needed for access. When two of those are #1 and #88, choose alternate keys as bedding/leveling samples and all will work out - just with a little more work.
Next week: Testing the Backrail Fit